Boffin celebrates his birthday today
Boffin is 19 years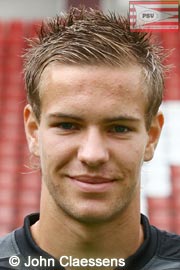 Today Boffin celebrates his birthday. Now he is 19 years old.

The Supportersclub of PSV congratulates Boffin with his birthday.
Characteristics
Tottenham Hotspur
Keller
Carr
Taricco
Gardner
Perry
Anderton (46
Bunjevcevic)
Postiga
Davies (39
Ricketts)
Keane
Redknapp (75
Marney)en Acimovic (62
Poyet).
Wissels: Burch
Kelly
Poyet
Ricketts
Jackson
Bunjevcevic
Marney en Slabber.
PSV
Waterreus
Bogelund
Hofland (46
Vogel)
Colin
Lee
Rommedahl (46
Hoogstrate)
Van Bommel
Van der Schaaf
Robben
Park (75
De Jong) en Kezman.
Wissels: Van Dijk
Vennegoor of Hesselink
Vogel
Lucius
Hoogstrate
De Jong
Wuytens
Jakobsen
Gujio-Velasco
Janssen en Gonzales.
Arbiter
Spectators
Score
9' Park 0-1
89' Robben 0-2